Jocelyn Charlton – Windsor, Ontario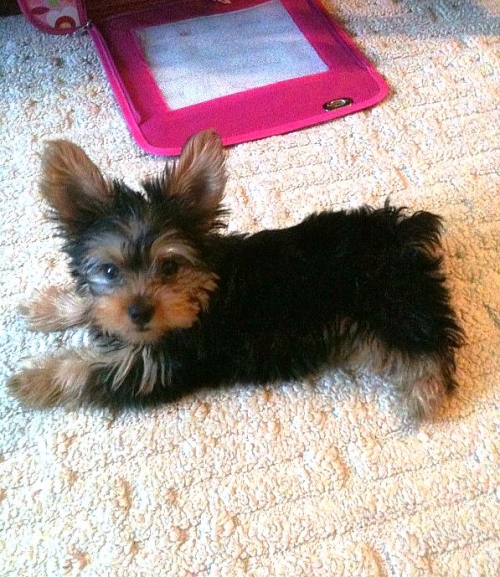 We have officially had Sophie for 11 weeks and she is an absolute joy to be around. We purchased her from you on April 16th and we've been inseparable ever since. On our car ride home to Windsor we discovered that Sophie is very content and loves to be held as much as possible. In these past 11 weeks, Sophie has shown us how perfect of a companion she truly is and my dad and I agree that it is all because of her amazing breeders. Not only did I want to give you an update, but I wanted to thank you for being so helpful during my first experience of buying and taking home a pet. You and your mother were very comforting and helped me to make the right decision in purchasing our Tiny Toy Morkie puppy.
Currently Sophie is 4 lbs, she's full of energy and is almost pee-pad trained. Our vet says that she is in perfect health, it doesn't appear that she will be getting much bigger and also has never heard of any breeder ever giving a 5 year health guarantee; she was extremely impressed! Sophie has filled my life with so much happiness and I have you to thank for that!
I recommend Minipups to everyone I know and I'm always sure to tell people where she is from. In the future, or when the time comes that I get another dog, you will be my first call.