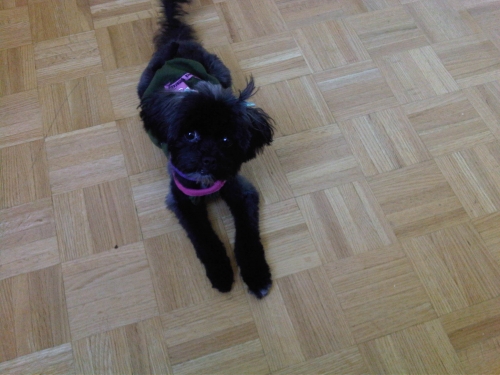 Aisha, Toronto, Ontario
Dear John,
First off i just wanted to say thank you so much and it was a pleasure dealing with you.
I've been searching for the "right" puppy for nearly 6 months as this was my first time owning a dog. I was doing a lot of research and i just wasn't satisfied with what i was coming across. I truly almost gave up my search, until one day I stumbled across the website minipups.ca. From the moment I saw Bella (malti-poo) on the site, I just had to visit and instantly felt she was meant for me when i saw and met with her. The first night having her she just seemed to settle right and didn't cry. I was surprised, but happy as I do know some pups have separation anxiety for the first few nights. The vet said she was a very happy healthy pup 🙂
I found John to be extremely helpful as he guided me through the necessary steps to take and consider when owning your first puppy. He is a very knowledgeable and professional individual, you can truly see that he loves what he does. This is someone that i would definitely recommend to all my friends and family when looking to add a new member to their household.
Sincerely,
Aisha