Sapphio Chu – Tiny Toy Teacup Yorkie Puppy, Markham, Ontario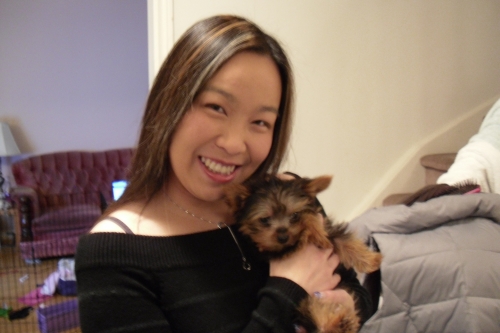 Sapphio Chu – Tiny Toy Teacup Yorkie Puppy, Markham, Ontario
Owner of Tigar, Teacup Yorkie
I've always wanted a puppy and when I saw the picture of Tigar, I fell in love with the little guy. I called John and he said he would hold him until I got there. When we got to John's place, we were impressed as to how clean the place was. When I met Tigar, I knew he has my baby.
Tigar is my first puppy and I didnt really know how to take care of him. He had separation anxiety the first day home and John was so worried that he drove all the way from Georgetown to Markham, Ontario (a good 45 min drive) just to make sure Tigar was ok. John kept texting me throughout the next few weeks giving me tips on how to take care of a teacup. When I was unsure about something I could call or text John and he would reply right away.
Tigar is the cutest little thing and everyone loves him. He is 13 weeks old at 1.5lbs, the vet says Tigar is very healthy with really strong knees and teeth. He is always running around the house and loves giving kisses. He brings us lots of happiness and joy and is now a part of our family.
Thanks John 🙂